MIX - Mixers from 80 to 200Kg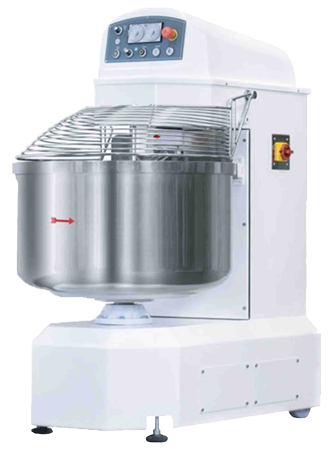 The 80-120-160-200 MIX are mixers which allow to considerably shorten the normal mixing time of traditional machines, built with a strong and reliable mechanics.
They are perfect for bakeries, pizzerias and pastry shops, because they work perfectly with both hard and soft dough.
Designed specifically for over 55% hydration dough.

TECHNICAL CHARACTERISTICS: Equipped with 2 motors, stainless steel bowl with easy extraction, special high resistance stainless steel spiral with two rotation speeds, moving parts mounted on bearings, safety device that blocks the machine as soon as the bowl protection guard is lifted, oven painting.
| # | Model | Dimensions LxWxH | Net Weight | Power of bowl motor | Power of spiral tool motor | Dough capacity | Bowl capacity |
| --- | --- | --- | --- | --- | --- | --- | --- |
| 1 | MIX 80 | 694 X 1122 X 1406 mm | 350 Kg | 0,55 KW | 2,06/4,8 KW | 80 Kg | 131 Lt |
| 2 | MIX 120 | 775 X 1248 X 1522 mm | 505 Kg | 0,55 KW | 2,06/4,8 KW | 120 Kg | 189 Lt |
| 3 | MIX 160 | 879 X 1499 X 1612 mm | 695 Kg | 0,75 KW | 5,9/10,3 KW | 160 Kg | 266 Lt |
| 4 | MIX 200 | 940 X 1560 X 1612 mm | 705 Kg | 0,75 KW | 5,9/10,3 KW | 200 Kg | 306 Lt |