GOLDEN 6000 MOULDER MACHINE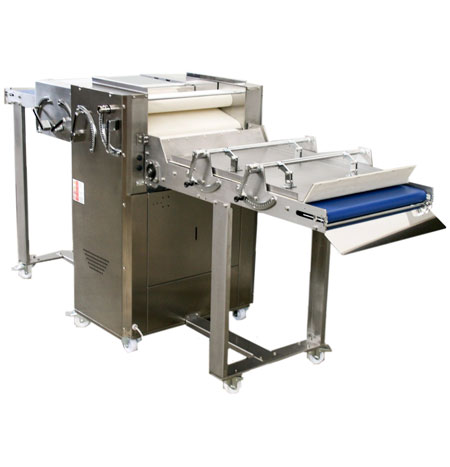 The
GOLDEN 6000 MOULDER MACHINE

is a machine able to form several types of rolled bread of various sizes (from 15 gr to 3 kg) and with a production suitable to be inserted in line: it can reach over 6000 pieces per hour.
It is equipped with 2 entry motorized and food-grade nylon pressure cylinders that can be independently adjusted by 2 handles: these provide a pre-rolling phase of the dough before proceeding towards the 4 cylinders group that finishes the lamination phase optimally. The dough is then rolled from 2 rolling belts equipped with lamination thickness handle. At the exit the rolled dough arrives at a long moulder plate equipped with an independent gear motor and quickly adjustable by 2 handles, the long moulder plate has a useful width of 630 mm.
The Golden 6000 is manufactured with very strong stainless steel sheet and all the moving parts are assembled on solder bearings, the protection of the cylinders is in stainless steel and when it is lifted up a device is stopping the machine. The electric systems, like the safeties, are in 24 volts.
The machine is equipped with swiveling and braking wheels for a comfortable installation and on request it can be equipped with an inverter for an optimal combination where it is inserted in the production line.
| # | Model | Cylinders | Dimensions LxWxH | Net Weight | Power | VOLT - HZ - PH | Dough |
| --- | --- | --- | --- | --- | --- | --- | --- |
| 1 | GOLDEN 6000 | 6x615 mm | 2800 X 1000 X 1400 mm | 700 Kg | 2,1 KW | 220/415V - 50/60HZ - 3PH | 15-3000 gr |